Motion and Rest: Seoul to Busan by Bike
Welcome to Motion and Rest, a blog for sharing my art and writing.
When my friend, Dave, suggested we ride from Seoul to Busan as part of an existing trip to Korea, it didn't take much more than reading a little bit about the extensive bike infrastructure between the two cities for me to get on board. Here are my notes from each day.
Tuesday, 5/23 - Day 0 - Itaewon to Hongdae (Seoul)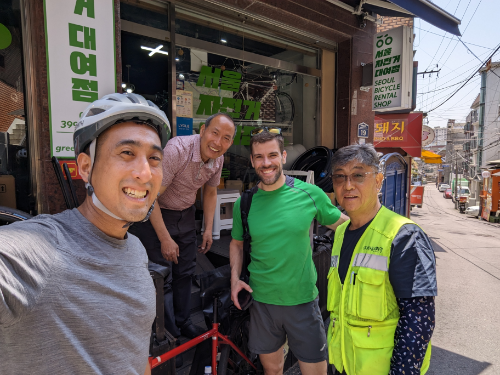 Left to right, me, the Korea Bike Rental shopkeeper, Dave, and an English speaking friend of the shopkeeper
We picked up rental bikes in Itaewon and rode back to Hongdae on the other side of the city (8mi, link to Strava). In the future, I would stay in a more central (to City Hall) location and probably ship a bike or rent from a different company. To and from the river path was a little scary (it's okay to ride on most sidewalks if you're respectful of people on foot), but the weather was beautiful and the river path itself features separate bike and walk/run lanes as well as liberal restrooms and some drinking water stops as well.
Stayed at Ryse, Autograph Collection in Hongdae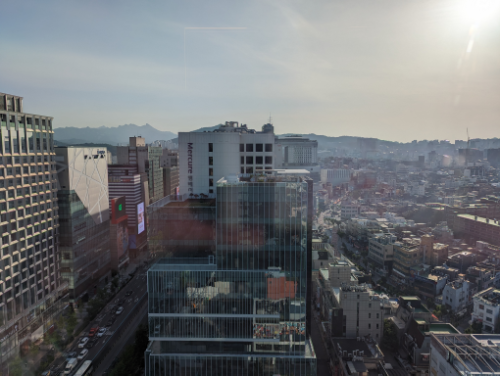 The northeast facing view of Hongdae from the Ryse, Autograph Collection
Rented bikes through Green Bike Park in Itaewon. The shop is also known by other names in English like "Korea Bike Rental." We ended up messaging with the owner's daughter "Sunny," via Kakao Talk. As mentioned earlier, I'd probably chose a different option. The bikes at the shop were a mix of sizes in a variety of states of disrepair. We spent a while testing out different bikes and even had to return to the shop to exchange one of them after discovering that the seat height couldn't be adjusted.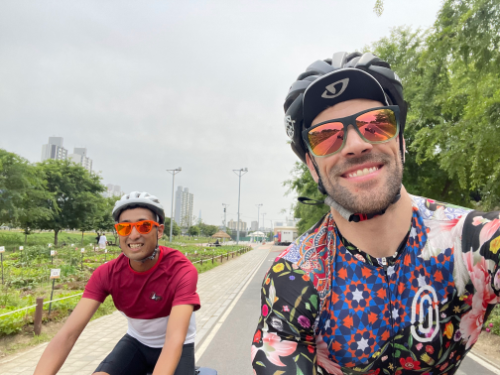 Wednesday, 5/24 - Day 1 - Itaewon (Seoul) to Yeoju, 85mi, 1.2k ft (plus a 7mi warmup from Hongdae to Itaewon and a 15mi unintentional detour towards Bukhansan National Park)
The gravitational pull keeping us in Seoul was strong. Dave's suitcase logistics, a rental bike swap back in Itaewon, and a navigation mishap kept us within Seoul longer than planned. The bike infrastructure of the river paths continued to impress with separate bike and walk/run lanes on both sides of the river, bridges, and recreational facilities like restrooms, playgrounds, and more consistently distributed on the paths.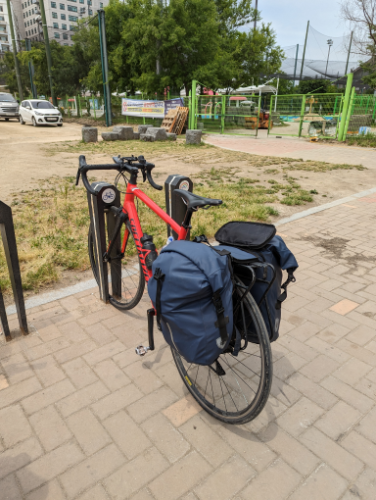 The red Specialized I rode.
Once leaving Seoul, the route follows a commuter train with amenities like restrooms and convenience stores nearby. Slowly the poor air quality improved, but not without irritating my throat. Many people in Seoul wear masks even when cycling or running. I believe this may be to help reduce irritation from the poor air quality (can someone validate this?).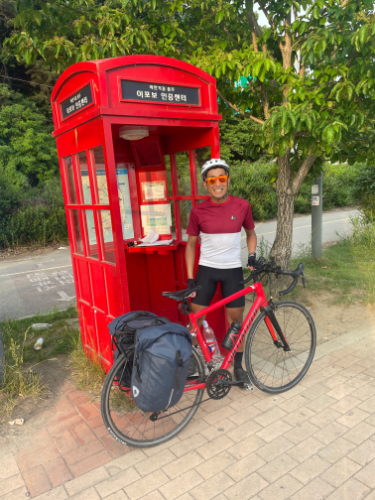 Riders can stop for stamps at these red phonebooths located at "landmarks" which are mostly just dams administered by the K-water government agency which is responsible for cross-country water resource management and the bike paths.
The day dragged into the evening as we enjoyed seeing more impressive recreational and public space infrastructure like campgrounds and dams with unique and beautiful designs. When we finally arrived at our Airbnb, our host, Shinku, welcomed us with an invite to enjoy barbeque and somaek, a combo of soju and beer. The food, drinks, and company were a delightful way to end a full day. We chatted with Shinku and Geehye, another guest, using the Papago Translation app and shared music with each other using Spotify and a Bluetooth speaker.
You'll note that the romanization of our new friends' names doesn't follow the more typical romanization rules, but that's how they offered their names so that's how I am sharing. Similarly businesses like our bike rental have inconsistent naming in Google and Kakao Mapping apps bouncing between Hangul (Korean alphabet), romanization of Hangul, English translations, and English alternate names. It was fairly easy to navigate, but just be aware that things might not be as seamless as they would be at home.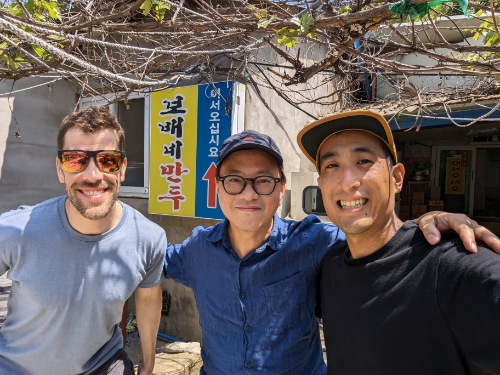 Left to right, Dave, Shinku, and me
Stayed with Shinku (Airbnb)
Thur, 5/25 - Day 2 - Yeoju to Suanbo Hot Springs, 51mi, 1.3k ft
Without the same tasks as Seoul to keep us in Yeoju, I anticipated being able to hit the road earlier than Day 1, but Shinku had other plans for us. Following up on his hospitality of the night before, we were treated to a tour of Yeoju. We started with coffees at a beautiful two-story Ediya, a Korean Coffee chain, followed by an exploration of Silleuksa, a riverside Buddhist temple, a local ceramics festival, lunch at a Terrace Mandu Dumpling House, his mom's favorite restaurant and an absolute gem, and ending at another beautiful, boutique coffee shop, Yeonyang Garden. It was unforgettable to have a tour of what would have been a relatively functional one-night stop.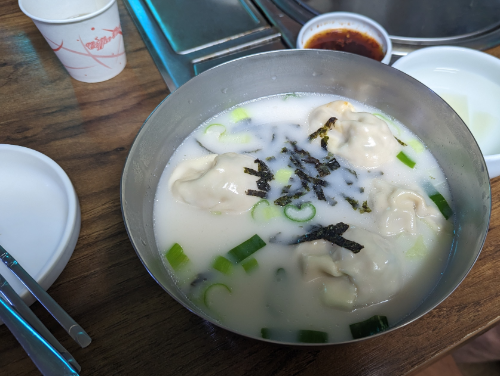 This dumpling soup was one of the best things I ate in Korea and that is saying something!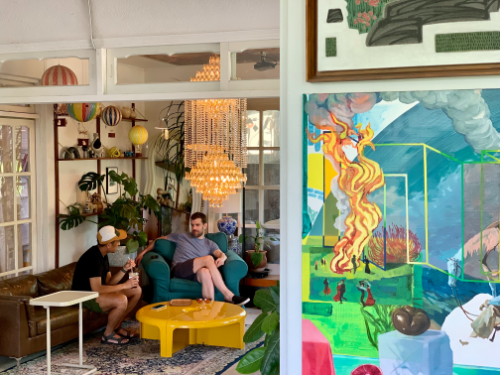 Living our best life at Yeonyang Garden coffee shop
My gratitude for this unexpected experience and plan for a much shorter ride kept my spirits high leaving Yeoju. Our plan saved the biggest climb on our route, the ancient Haneuljae Pass, for the first part of our third day instead of the end of our second so our ride on Day 2 was less than 55mi.
The infrastructure thinned and was more of a mix between marker roadside bike lanes and dedicated bike paths. There were fewer convenience stores and public places to refill water bottles so the extra fluids I had stashed in my paniers paid off.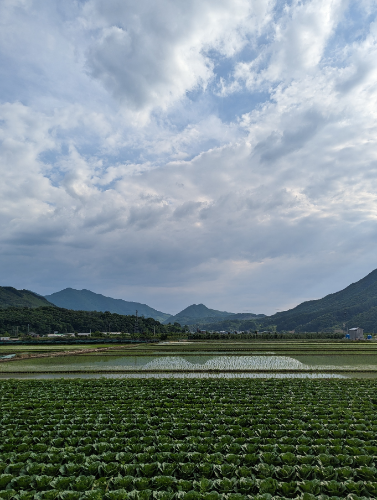 Suanbo is a Hot Spring Touristy town. One nice amenity of our hotel was bike lockers. Being off season, it was difficult to choose a restaurant based off of busyness. We ended up at a Korean barbecue place which was fine. The exhaustion was catching up to us and we turned in early to our Korean style beds.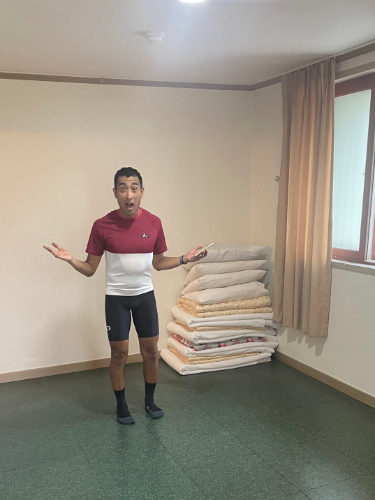 We were surprised to find our "beds" stacked in an otherwise pretty much empty room.
Stay at Suanbo Saipan Hot Spring Hotel - it was fine, there were secure bike lockers outside which was nice, the breakfast was mediocre coffee, hard boiled eggs and toast with jam which sufficed, we got more coffee after our first breakfast.
Fri, 5/26 - Day 3 - Suanbo to Gumi, 84mi, 2.9k ft
While we did hit the road earlier than the prior two days, we still didn't leave early. We met one person at the hotel breakfast who was hiking the major peaks in the national parks and another pair riding Bromptons across the country. It was fun to chat with other visitors.
Our first task of the day was to tackle the major climb to Ihwa Pass out of Suanbo towards Sangju. It wasn't too bad and the view from the pass is spectacular.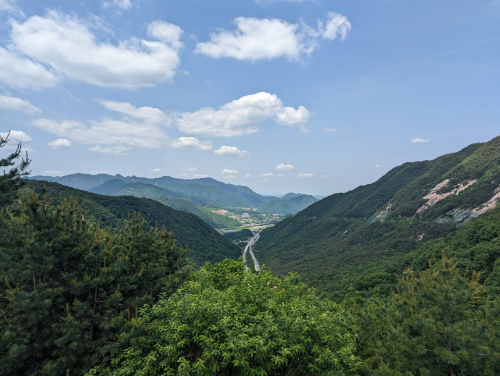 After a fun descent from the Ihwa Pass, we entered a pretty rural area filled mostly with rice paddies and very little else. The bike infrastructure was still pretty solid, but food and water stops were pretty sparse. We subsisted on snacks, unable to find a spot for a meal and refilled our bottles at a bike hostel.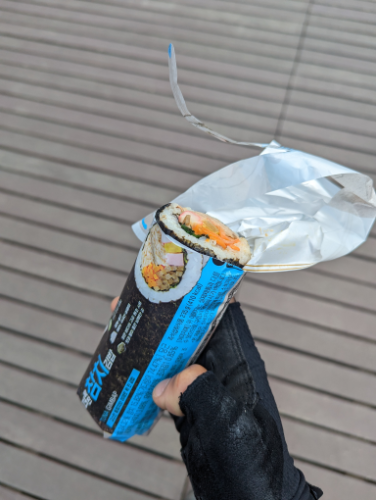 Convenience store gimbap became a staple breakfast and lunch.
We got into Gumi and had a bit of a time riding through the city to find the hotel. Ate some tteokbokki and chicken, walked in the shopping district around Gumi Station, and fell asleep.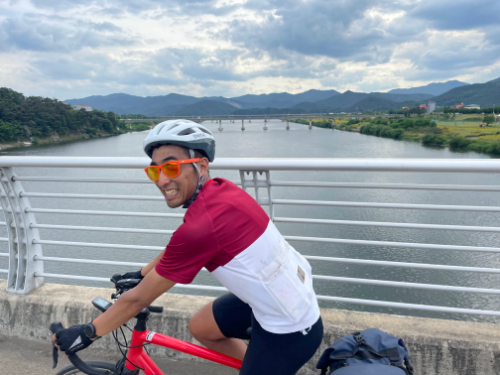 One of many river crossings
Stay at Ekonomy Hotel KOREA GUESTHOUSE(코리아 게스트하우스)>
Sat, 5/27 - Day 4 - Gumi to Namji, 91mi, 3.7k ft
After three days of very relaxed start times, it was time to get serious about starting early. Day 4 had the most planned mileage (there's always a bit more than planned it seems) and also included some decent climbs late in the ride. The planned elevation gain had been consistently higher than what we were logging so it was difficult to determine exactly how much climbing we'd be doing, but the climbs on Day 4 were no joke.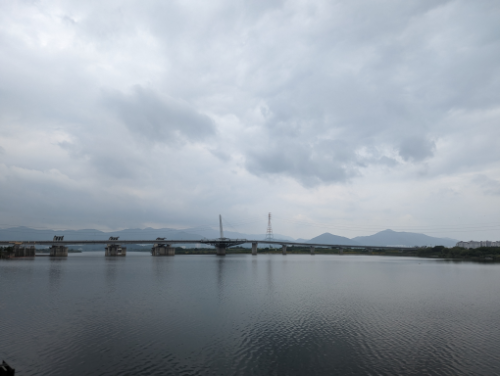 After three days of blue skies and sun, our fourth day was a bit overcast.
We rode from our Gumi hotel a few miles back out to the bike path an enjoyed our convenience store breakfast of gimbap and canned coffee in the relative peace of the path which ran adjacent to Gumi's industrial district.
Emerging from the Gumi area, we were treated to the bucolic scene and aroma of people harvesting garlic by hand. From time to time, we'd ride adjacent to garlic drying on the rails alongside the bike path.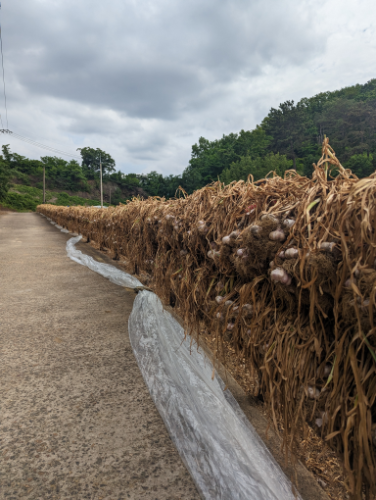 The first of three big climbs was at Mile 60, next to a Buddhist Temple, and was too steep for me to ride completely. Instead I dismounted, enjoyed the chanting for the Korean celebration of Buddha's birthday and pushed the loaded bike up the climb.
I did a better job eating consistently throughout the day which helped my energy levels significantly versus prior days. We had hoped to stop at one of the many beautiful, multistory coffee shops we had seen frequently throughout Korea near Daegu, but there weren't any immediately adjacent to the route. We ended up taking a little detour to a very cute, French themed shop for some coffee and cake.
The extra fuel helped me power up the second big climb at about Mile 77 and earned me an energy bar from a rider I passed up the hill who offered it to me without words.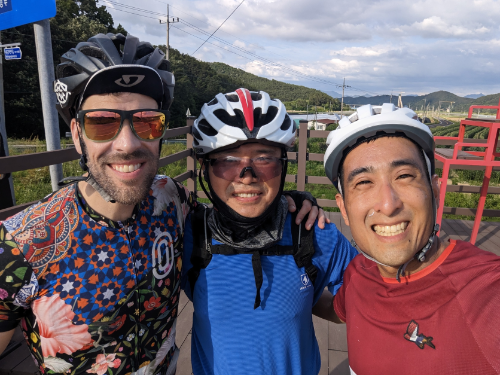 Between climbs, we took a selfie with a new friend.
The initial stage of the final big climb at Mile 84, had me walking the bike up again. Nearby in the valley below a group of people were enjoying a barbecue outside which looked amazing. After more country roads winding through fields, we made it to Namji.
A relatively small town, Namji was the only place where I was unable to book accommodations online in advance. Studying Google Maps, I surmised that there were places to stay in Namji and that those places were Love Hotels also used by cyclists. Sure enough when we pulled up to the one closest to the bike route, they were ready for us and had signs posted for bike storage in English.
Accommodations secured, we showered and went out in search of food. After some misses, we found Young Beer, a bar with food. The host/owner was a jolly guy and was happy to use Papago to help us order what we wanted and wanted to make sure we were enjoying ourselves! After eating, we turned in, exhausted from a challenging, but rewarding day.
Sun, 5/28 - Day 5 - Namji to Busan, 66mi, 900 ft
On our fifth and final day, we got out of the hotel relatively early and had a convenience store breakfast of gimbap and canned coffee.
In the first four days, we were fortunate to have no significant mechanical issues, but we ran through our luck with our questionable rental bikes early in our final day of riding. A few miles into the ride, I hopped a curb and got a pinch flat. Only a few miles later, Dave's bike had a much more serious mechanical issue. Emitting a sudden crunching sound, the rear derailleur hanger snapped off and damaged the chain in two places.
We spent the better part of the next hour and a half repeatedly shortening the chain to run as a single speed only for the chain to break a few hundred meters later.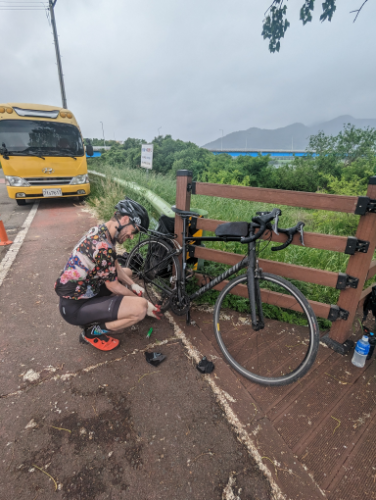 When we ran out of usable chain, I continued with the ride as planned while Dave cabbed with the bike to our hotel in Busan.
With about 25% of our ride for the day completed and a lot of time spent trying to get Dave back on the road, I found myself under a bit of pressure to complete the ride by 5pm which was when I thought I needed to return the bike at the official finish area. It was also about this time that the forecasted rain began. I rode at a steady effort into wind and rain to make it by 5pm. Thankfully, there not much traffic and very few hills.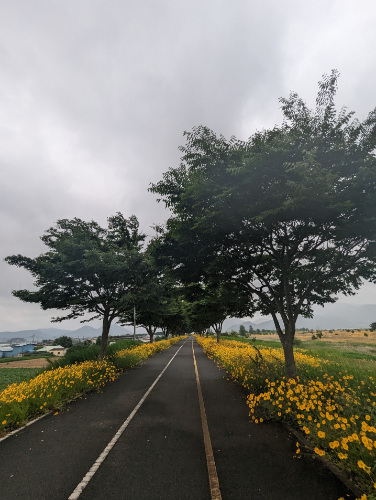 At around Mile 33, there were some beautiful views of the river valley, but after that, the route became increasingly urban and banal, culminating in the final 10 or so miles being alongside a busy highway and somewhat in disrepair.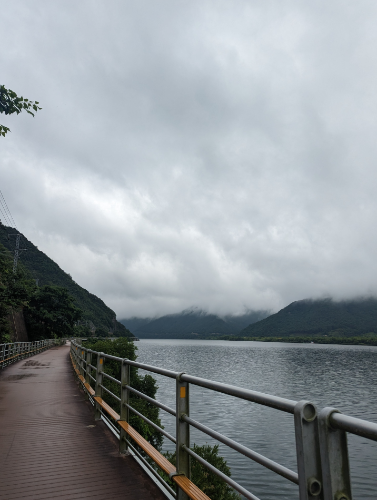 The clouds in the river valley right before they started dumpin rain on me.
Arriving at the official, K-water start/end point of the route, I found that our bike drop off was actually at our hotel, five more miles into the city center. Soaked and tired, I prepared myself for the unknowns of riding in Busan proper. I loaded the route to the bike computer and received a low battery message. I took off as quickly as I felt safe riding. Then my bike computer died. I started riding on the roads before realizing that the typical behavior is to ride on the sidewalk. I rode carefully on the sidewalk checking my phone every few minutes, it was time well spent to avoid an error in a hilly and unfamiliar city. I took things one step at a time until I finally made it to the hotel. I was so happy to get off the bike and into dry clothes!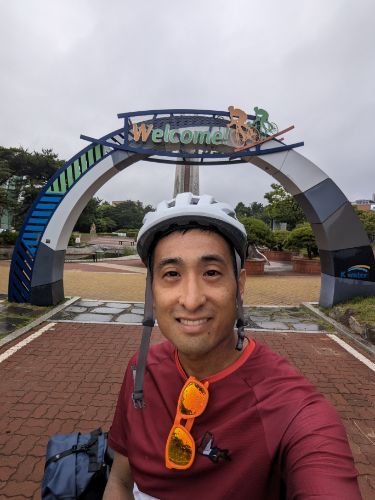 At the official K-water end point, I was tired, wet, anxious about riding city streets without my bike computer, and also enjoying the final moments of the epic adventure.
Despite a somewhat anti-climatic final day, I would recommend the Seoul to Busan bike tour. With some training and planning, riders with a wide range of abilities will enjoy this experience. Here are a few thoughts about things I'd consider when planning:
Be prepared for poor air quality in Seoul
Consider bringing your own bike to avoid the uncertainties of bike rental
Download Korean apps, Papago for translation and Kaokao Maps for navigation, I sometimes would use Ride with GPS, Google Maps, and Kaokao to validate city locations and routing
After crossing Ihwa Pass (early in Day 3 for our trip), access to food and water was inconsistent between overnight stops. Begin each day with enough food and water for the full day.
Busan was a fascinating place. We only spent one night there. I'd consider spending at least two nights in Busan.
Additional Resources
Ride with GPS Collection of our five day ride which can be referenced for your own route planning
I consulted this tour for a rough itinerary. I don't think a tour is "necessary" as planning for this trip is pretty straightforward, but there are tour options if that's your thing.
Korea by Bike has a lot of good information, but is organized somewhat poorly (for English readers) and prompts you to "become a member." I was able to find loads of info without becoming a member.
Thanks for reading! Thoughts or comments? Please share them below!